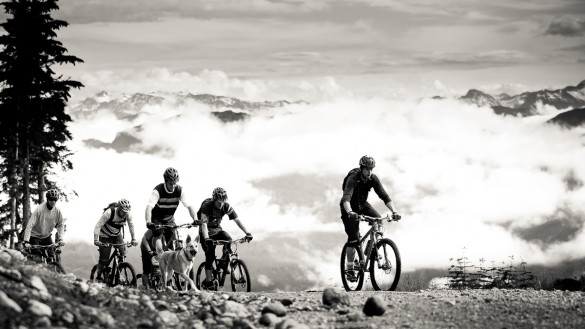 The Story of Chromag.
Chromag Bikes was started in 2003 by local Whistler mountain biker, Ian Ritz. It started with a single steel-framed hard tail and has grown to include a full range of mountain bike components and an extensive series of hard tail frames.
The idea for the original frame, the TRL, was born out of a desire for simplicity, quality and strength in an era of full suspension bikes. Ian wanted something to complement the kind of riding typical to Whistler – rooty, rocky, rough with big climbs, big descents and everything in between. He designed that first frame and rode it, leaving his full suspension bike behind. Soon all his friends wanted Chromag frames as well and more ideas flowed from there. Ian started designing the saddles, handlebars and stems that have made Chromag what it is today.
Chromag is largely known for its quality, colourful components. Those things that mountain bikers love to upgrade on their bike to make it unique and special to them. One lap in the Whistler Mountain Bike Park and you can't help but notice the number of Chromag handlebars and saddles on bikes. There is a strong and loyal following in Whistler. They were early adopters naturally, as the products were initially designed with that kind of riding in mind, but the demand has spread to all corners of the globe, with dealers and distributors everywhere from Japan to Israel. Yet many of Chromag's products are manufactured right in Whistler or the surrounding area.
Every Friday, Ian and a group of buddies would get together for a big breakfast and then head out for a punishing epic ride. To this day, the Friday ride is a legendary ritual that drives the inspiration for Chromag's product design. Riding bikes and being passionate about bikes is at the core of their business.